Wrapping up the month with our last two subscription boxes is Ecocentric Mom. An Ecological box of goodies that you can subscribe to as "Mom" "Mom-to-be" or "Baby and mom". This box starts at about $17/month, but there is no referral program in place yet.
It comes wrapped sweetly in pink tissue paper. Love this presentation. (Similar to the Citrus Lane presentation, except they use yellow).
I subscribed to both the Mom box, and the baby box. This month the Mom box arrived first, so I'll talk about it first.
If I am being completely honest, I was slightly disappointed in this box. But it's not them, it's ME! The box contained some all natural make-up, including mascara and nail polish, and I'm just not big on make-up. But those two items alone easily covered the price of the box...and I guess it's nice to have a nail polish I can trust for my 2 yr old daughter. Another thing I wasn't super excited about was a bar of soap from Possum Hallow that was scented with Rose. I don't like the smell of roses...I know, I'm hardly a girl at all, right?! I should have seen this coming. Anyway, the rest of the box was great. Super Food Vitamin mixes, Teas, truebar, lotions, biodegradable bags for compost, and my favorite food item to ever come in any subscription box EVER... "ips" egg white chips. These were packed with protein and oh so yummy! My kids gobbled them up with me, leaving none for the hubby to taste. Sorry dear!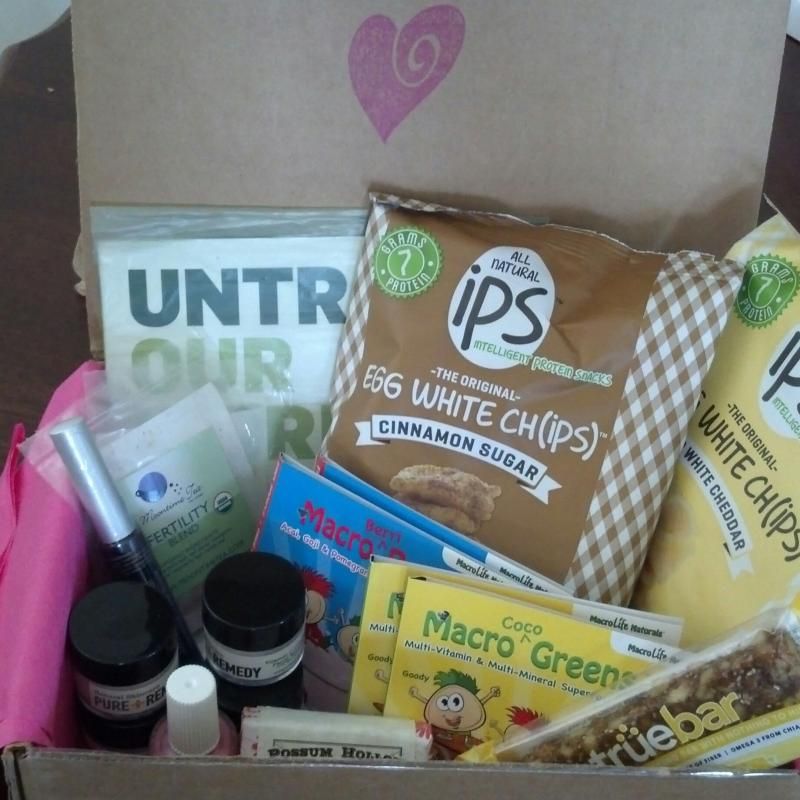 I think I am going to keep this subscription for one more month and hope they send more bath & basic products and less beauty supply. ...like I said, it's me, not them. This was a great box!
Moving onto the Baby box! I was uber pumped for this one! I'd heard nothing but AWESOMENESS, and I love baby stuff! The box did not disappoint! The presentation was the same... wrapped all nice like Christmas!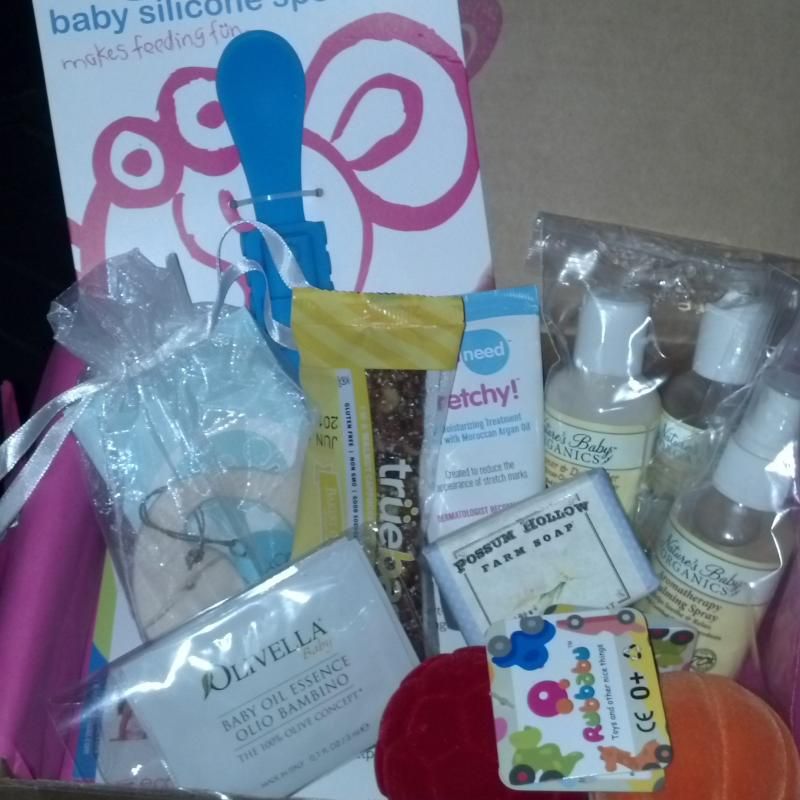 This box contained Possum Hallow bar soap as well, but the baby scent was more up my ally: Lavender Vanilla Oat! YES, thank you! There were also neat toys for my little ones. Rubbabu all natural rubber balls, a Gao all wood teether, and there was also an oogaa spoon shaped like a little train, cute! I love Oogaa! It also contained 3 products from Nature's Baby: shampoo/body wash, Conditioner/detangler, and an aromatherapy calming spray. There was a weeks supply of massage oils, another truebar for me...and some stretch mark cream. Very happy with this box, definitely a keeper! The value of the ecocentric mom boxes is almost double what you pay, so I'm into that!
And there you have it! One Month, Ten Boxes. Some were instantly nixed. Some "try one more time". And some "Keepers!" Which boxes will you subscribe to?!